Priced at $650 for this 60 minute performance of
Songs and Letters of World War II.
(Travel expenses may be added depending on location.)
---
It is with profound respect and appreciation, we salute their service and honor the hope and peace they brought to a world at war.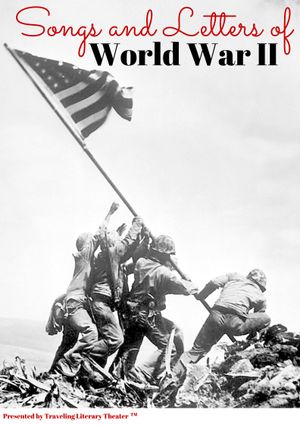 The defining historic experience for mankind during the 20th Century was most certainly the tragic years from 1939-1945 that encompassed the events surrounding World War II. But even throughout those dark days, a spark of humanity and redemption continued to shine through.
In a moving tribute to the resiliency of the human spirit, Traveling Literary Theater pays homage to the men and women who struggled, fought, lived and died during that terrible conflict.
Three seasoned professional actors share many personal letters, quotes and accounts of the war. International cabaret singer, Maggie Worsdale performs a number of songs that best represent the feeling and mood of the era. This one hour performance has proven to be a fitting and uplifting tribute to the memory of those who made up what is now called "the greatest generation."
Musical selections include: I Don't Want To Walk Without You, I'll Be Home for Christmas, This Is The Army Mr. Jones, I'll Be Seeing You.
Performed throughout the year, the show has a natural tie-in for Veterans Day, Memorial Day, Fourth of July, Pearl Harbor and D-Day tributes.
_________________________________________________________________________________________________________________
THOSE WHO HAVE SEEN THIS SHOW SAY...
I just wanted to say your show was outstanding!  I felt like I was really there during WWII listening to the actors.  I closed my eyes and one point and felt like I was with family sitting around the radio listening to what was happening at that time.  Your voice is incredible and the men reading the letters were great.  Everyone who attended loved the show and hope we do another one next year.  Thank you so much for an amazing performance and look forward to seeing more of what you guys do in the future. 
Melissa Dion - Retired SSG U.S. Army - Blue Star Mother of Coastal Carolina 
American Legion Post 40 - November 2022
---
"Please relay my thanks and appreciation to your group for sponsoring the wonderful program last evening. It was an honor to hear the words and letters from the soldiers.
My dad is a 96 year old WWII Navy veteran and he will be so pleased when I relay this to him."
---
The men and women of WWII are not forgotten and Maggie, Tom, and James' wonderful tribute helps keep their memories and stories alive for all of us.  Thank you so much. 
Kathie Sheperd - Del Web Traditions, Veterans Club President
---
For more information:
Please call Maggie Worsdale - 732-928-7355
Email Maggie Worsdale - worsdale@aol.com
Go to Contact Page and fill out form.