Program is available in SC, GA, NC.
Price - $650 for this 60 minute presentation.
(Travel expense may be added depending on location).
This production, with these 2 original actors, has been performed since 2005 with over 350 presentations. Tickets are limited.
A Meeting of the Macabre is a fascinating bit of theater for those who love a good ghost story. Edgar Allan Poe was an American poet, short story writer, playwright, editor, literary critic, essayist and one of the leaders of the American Romantic Movement. Bram Stoker was an Irish writer, best remembered as the author of the influential horror novel Dracula.
A Meeting of the Macabre is a discussion between two professional actors about the challenges, disappointments, secrets, and inspirations of Edgar Allan Poe and Bram Stoker. Learn how and why they wrote those famous stories. The actors pierce your senses while dramatically reading passages from famous works. You'll be transported into the spellbinding world of the macabre by 2 professionally trained actors.
As the candles flicker, this type of presentation is perfectly designed for an intimate setting.
"Hello, My husband and I were at the 1:00 p.m. showing of "A Meeting of the Macabre" on Saturday, October 26th, and we loved it! It just was not long enough. We wanted to hear more. Without distracting theatrics, actors Tom Worsdale and James Dyne brought the words of Edgar Allan Poe and Bram Stoker to life. Listening to the beautiful language that these writers used, opened our imaginations giving  us a refreshing theater experience. Today it seems we have to be bombarded with so much stimuli to be entertained. Thank you Traveling Literary Theatre for giving us a memorable look into the lives and words of Poe and Stoker. Please keep us on your email list to let us know of upcoming performances.Thank you".
Melissa and James Haskell - 2019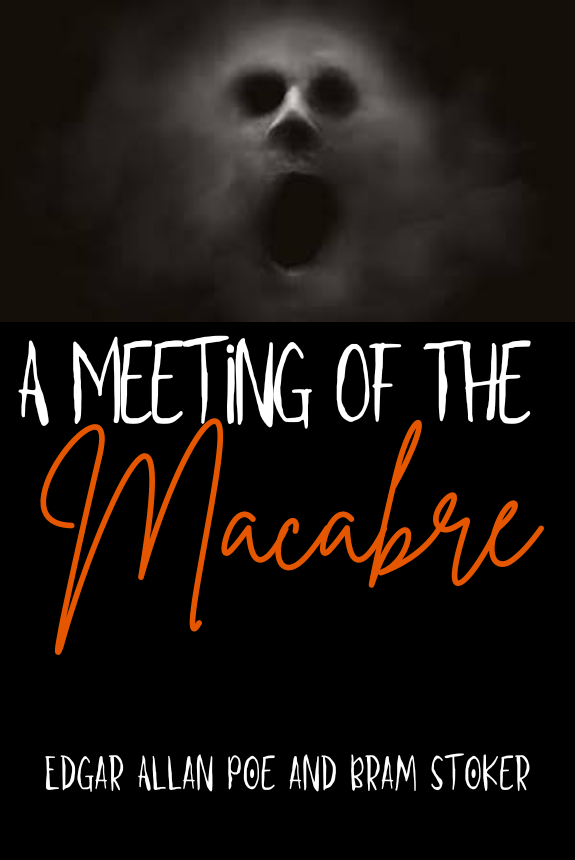 Actors Tom Worsdale and James Dyne bring the life and time of both Edgar Allan Poe and Bram Stoker together for an hour of conversation and dramatic readings. 
You'll be transported to the spell binding world of the macabre. Dramatic, tender,  funny - this is outstanding literary theater perfectly translated to the intimate setting.
---